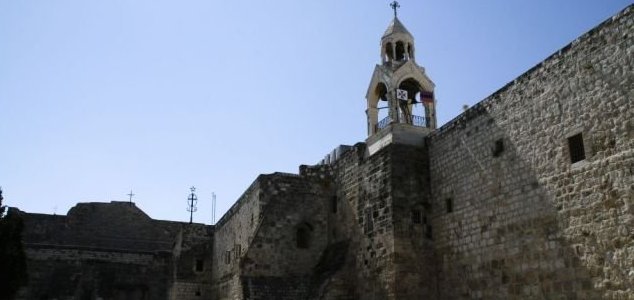 The church as it appears today.

Image Credit: CC BY-SA 3.0 Ian and Wendy Sewell
The unknown artifact was unearthed during restoration work at the Church of the Nativity in Bethlehem.
Originally constructed back in the fourth century over what was at the time believed to be the actual birthplace of Jesus himself, the church was destroyed during the Samaritan Revolt in AD 529 but was later rebuilt in the 6th century during the reign of Byzantine Emperor Justinian I.
Over the next few centuries the church would gradually fall in to a state of disrepair, but back in 2013 a major $8 million restoration project began in an effort to return it to its former glory.
Now following continued structural repairs on the building, workers have allegedly uncovered a mysterious icon underneath plaster near one of the church windows.
The object, which is reported to be of considerable religious and historical significance, is made of silver, brass, shells and stones however so far no photographs of it have been released online and authorities have been keen not to make it available for public viewing.
"The removal of centuries of dust has left mosaics sparkling in the sunlight filtering through brand new windows," said al-Bandak, the leader of the committee in charge of the restoration work.
"Structural repairs on the fragile rooftop and windows have been completed and artistic treasures have been returned to their delicate elegance."
Source: Discovery News | Comments (34)
Tags: Bethlehem