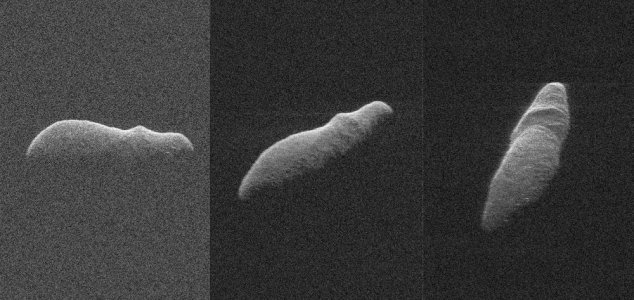 The asteroid has a distinctive shape.

Image Credit: NASA/JPL-Caltech/GSSR/NSF/GBO
A mile-long asteroid shaped a bit like a hippopotamus has skipped us by on its closest approach in 400 years.
The unusually shaped space rock, which had been described as 'potentially hazardous', sailed past our planet on Saturday at a distance of 1.8 million miles.
Known as asteroid 2003 SD220, it is set to pass even closer still in the year 2070.
Remarkably clear radar images have given scientists the opportunity to study the object up close.
"The radar images achieve an unprecedented level of detail and are comparable to those obtained from a spacecraft flyby," said Lance Benner of NASA's Jet Propulsion Laboratory in California.
"The most conspicuous surface feature is a prominent ridge that appears to wrap partway around the asteroid near one end."
"The ridge extends about 330 feet (100 metres) above the surrounding terrain. Numerous small bright spots are visible in the data and may be reflections from boulders."
"The images also show a cluster of dark, circular features near the right edge that may be craters."
Source: Independent | Comments (10)
Similar stories based on this topic:
Tags: Asteroid, Hippo