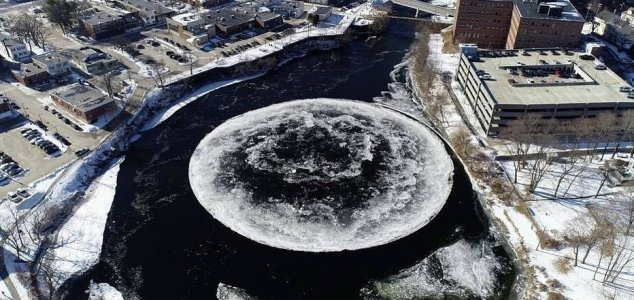 The disk has been likened to a 'frozen crop circle'.

Image Credit: Tina Radel / City of Westbrook
The enormous circle of ice formed in freezing weather in the Presumpscot River on Tuesday afternoon.
Believed to be approximately 100 yards in diameter, the impressive spectacle quickly became something of a social media phenomenon due to its perfectly circular appearance.
Ice disks like this one form at the bends of rivers where the accelerating water creates rotational sheer, breaking off chunks of ice and spinning them around until they have formed in to a circle.
Footage of the disk was recorded by Tina Radel, the city's marketing and communications director.
It is hoped that the phenomenon will help to drive new visitors to the area.
Source: Boston Herald | Comments (5)
Tags: Ice, Disk, Maine