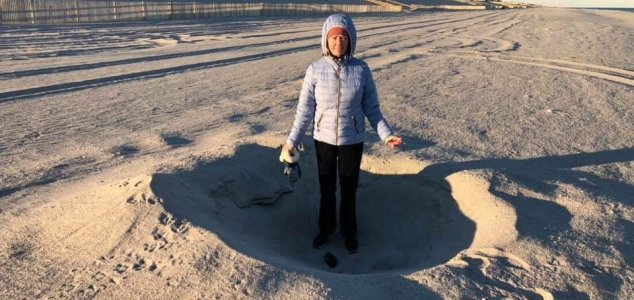 It turned out that the rock wasn't what anyone had expected.

Image Credit: Facebook / Nora Muchanic
Nora and Jean Muchanic had been walking on a New Jersey beach when they came upon something unusual.
The two sisters had been strolling along Silver Beach in Toms River last week when they discovered a 5ft-wide hole in the sand with a small black rock sitting directly in the middle of it.
Curious about the find, they decided to post up photographs on Facebook where social media users were quick to suggest that it was most likely a meteorite that had fallen from the sky.
Hoping to learn more about the object and where it might have come from, the two sisters decided to take it to the Franklin Institute in Philadelphia where it was examined by astronomer Derrick Pitts.
As it turned out, the object wasn't a meteorite at all - it was a piece of coal.
"Derrick Pitts, chief astronomer at the Franklin Institute in Philly, examined the rock my sister Jean Muchanic and I found in a crater at Silver Beach last week," Nora wrote.
"Derrick says it's not a meteorite, it's a piece of COAL. Waaaaaah..... So nothing from another galaxy, now just a big ugly paperweight! Thanks to @TheFranklin and Derrick for taking the time to look."
Exactly how the coal had ended up in a hole on the beach however continues to remain a mystery.
Source: Fox News | Comments (11)
Tags: Meteorite