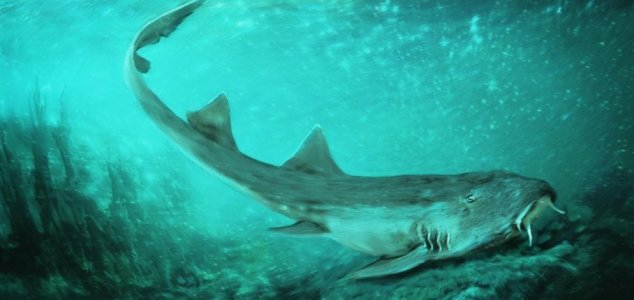 The shark was only around 30cm long.

Image Credit: (c) Velizar Simeonovski, Field Museum
A newly discovered species of prehistoric shark has been assigned a name based on the shape of its teeth.
Thought to have lived 67 million years ago at the tail end of the Cretaceous, the pint-sized shark has been named
Galagadon
in homage to the 1981 arcade classic 'Galaga' on the basis that its teeth happen to bear more than a passing resemblance to the spaceships in the game.
The fossil teeth, which measure mere millimeters in size, were discovered in South Dakota in the sediment that was left behind following the excavation of the most complete Tyrannosaurus rex skeleton ever found - a specimen named 'Sue'.
"It may seem odd today, but about 67 million years ago, what is now South Dakota was covered in forests, swamps and winding rivers," said study co-author Terry Gates.
The shark's small size meant that it would have most likely feasted on snails and crayfish.
"We had always thought of the 'Sue' locality as being by a lake formed from a partially dried-up river - the presence of this shark suggests there must have been at least some connection to marine environments," said Peter Makovicky of Chicago's Field Museum.
Source: BBC News | Comments (0)
Tags: Shark, Galaga