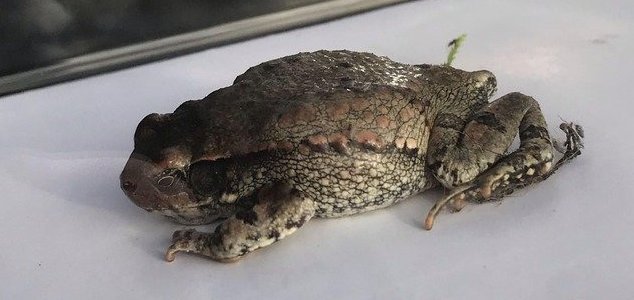 At least it's not a giant spider.

Image Credit: RSPCA
One holidaymaker got more than she bargained for recently after returning from a trip to South Africa.
Before you head home from a trip abroad, it might be a good idea to check your belongings for any unexpected stowaways - something that this particular woman evidently didn't do.
The unnamed traveler, who is from Nottinghamshire, had returned to the UK recently to find that a large frog had somehow managed to hitch a ride inside her suitcase.
Despite being cooped up for so long however the amphibian seemed none the worse for wear.
It has since been taken to a local farm which specializes in keeping exotic animals.
"We often get called out to collect lizards, frogs, crabs and spiders who have crawled into clothes and bags before flying home with their unsuspecting smugglers," wrote Paula Jones, an animal collection officer with the RSPCA ( Royal Society for the Prevention of Cruelty to Animals ).
"We've even been called by people who have found potentially deadly scorpions in their suitcases!"
"I hope this little frog's remarkable journey will remind holidaymakers to always give their cases an extra thorough check before heading home - just in case they too pick up a surprising stowaway."
Source: ITV.com | Comments (3)
Similar stories based on this topic:
Tags: Frog, South Africa