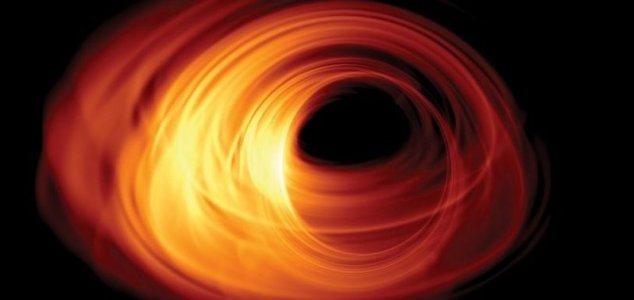 A simulation of the black hole.

Image Credit: Bronzwaer/Davelaar/Moscibrodzka/Falcke/Radboud University
The supermassive black hole in the center of the Milky Way seems to be pointing a radio jet directly towards us.
The unnerving, though harmless discovery was made recently by astronomers who managed to capture the clearest and most high-resolution image of the galactic behemoth ever taken.
To achieve this, they used a technique known as 'very long baseline interferometry' (VLBI) which effectively combines multiple telescopes to create a single, much larger virtual telescope.
To help peer through the thick cloud of gas, dust and plasma surrounding the black hole, the team used computer models to simulate what lies inside.
They found that the black hole's radio emission was coming from a much smaller area of the sky than previously realized - a mere 300 millionth of a degree.
This suggests that the radio jet may in fact be pointing directly towards us.
Fortunately however it is unlikely to cause us any harm and may even offer a unique opportunity to study the black hole in ways that would not otherwise be possible.
The Event Horizon Telescope - a collaborative effort to create a global network of radio telescopes - should yield some of the most detailed images yet of the black hole in the not-too-distant future.
Source: Sky News | Comments (19)
Similar stories based on this topic:
Tags: Black Hole