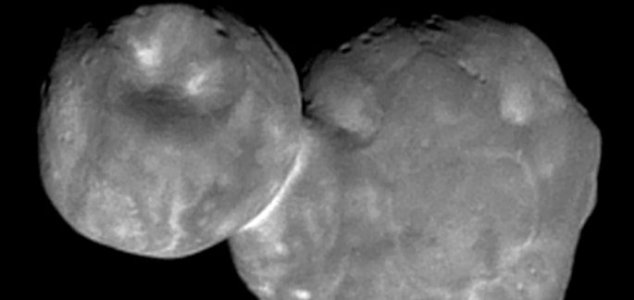 There is still much we don't know about Ultima Thule.

Image Credit: NASA / Johns Hopkins University
The data gathered by New Horizons earlier this month is starting to unravel the mysteries of this enigmatic object.
With a mass approximately 10,000 times that of the comet visited by ESA's Rosetta spacecraft, MU69 (or Ultima Thule) is around 30 miles in diameter and orbits the Sun once every 295 years.
Until now, no spacecraft had ever visited this - or any other - object situated so far out in the solar system, making the mission's findings particularly enticing.
This latest image, which was taken by the probe's wide-angle Multicolor Visible Imaging Camera (MVIC), shows the two 'lobes' of Ultima Thule in more detail than ever before.
The object is unusual because it is made up of two separate objects that have joined together.
"This new image is starting to reveal differences in the geologic character of the two lobes of Ultima Thule, and is presenting us with new mysteries as well," said Principal Investigator Alan Stern.
"Over the next month there will be better color and better resolution images that we hope will help unravel the many mysteries of Ultima Thule."
Source: jhuapl.edu | Comments (9)
Tags: Ultima Thule, New Horizons