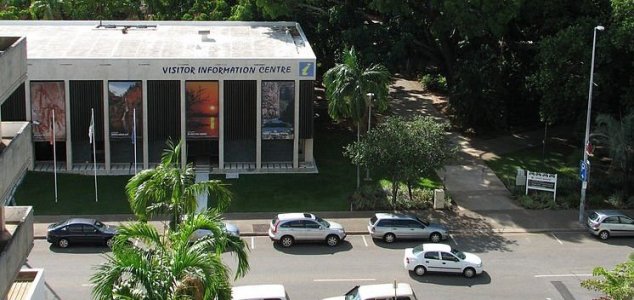 The building as it looks since it became a tourist office.

Image Credit: CC BY 2.0 kenhodge13
A mysterious room in Darwin's former Reserve Bank building has remained firmly locked for decades.
The building, which was completed back in 1967, served as the Territory's Reserve Bank branch for around 30 years before being occupied by the United Nations between 1999 and 2004.
Its current occupants - Tourism Top End - moved in back in 2007.
While the building contains many of the structural remnants you'd expect for a former bank, one of its rooms - which has remained under lock and key for years - remains particularly mysterious.
Measuring 4.5 meters by 5.5 meters, the room is sealed behind a locked vault door and nobody knows what is inside. What's more, none of the keys left by the bank seem to fit the lock.
"We've tried every key that we can find, which we have stacks of," said Tourism Top End visitor center manager Julie Lawrance. "Obviously being an old bank we have hundreds of keys."
"I'd love to know if there was some money in there, but I don't know."
Now in a renewed bid to reveal the secrets of this mysterious room once and for all, the firm has arranged for locksmiths to break in to the vault on Wednesday.
Whether it be piles of gold bars, secretive UN documents or perhaps even nothing at all - it should be very interesting indeed to learn exactly what lies inside.
Source: ABC.net.au | Comments (12)
Similar stories based on this topic:
Tags: Bank, Darwin