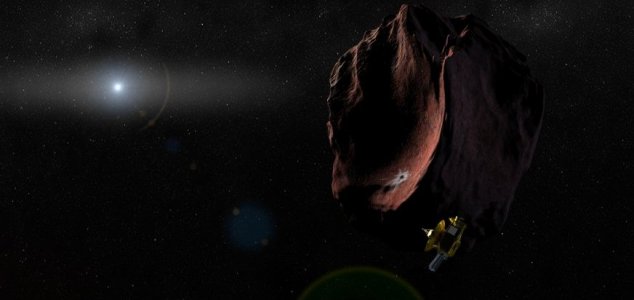 What will New Horizons discover at Ultima Thule ?

Image Credit: NASA
Following on from its historic flyby of Pluto in 2015, the probe will reach its next destination on New Year's Day.
With a mass approximately 10,000 times that of the comet visited by ESA's Rosetta spacecraft, MU69 (or Ultima Thule) is around 30 miles in diameter and orbits the Sun once every 295 years.
Situated at a distance of around 1 billion miles beyond Pluto, this distant, icy world will be brought in to sharp focus for the first time when New Horizons makes its closest approach within the next 3 days.
"It's electric, across the whole team," said mission principal investigator Alan Stern.
"The people are ready. We can't wait to go exploring."
What New Horizons will find at Ultima Thule remains unclear, however it is hoped that the data sent back will help to teach us more about the formation of the solar system 4.5 billion years ago.
All we know right now is that MU69 has a reddish tint and some rather unusual reflective properties.
"We don't have a lot of information on the composition," said mission co-investigator Kelsi Singer. "That's one of the things we're really excited to learn."
If all goes well, the flyby will take place on January 1st at 12:33 a.m. EST.
Source: Space.com | Comments (34)
Similar stories based on this topic:
Tags: New Horizons, Ultima Thule