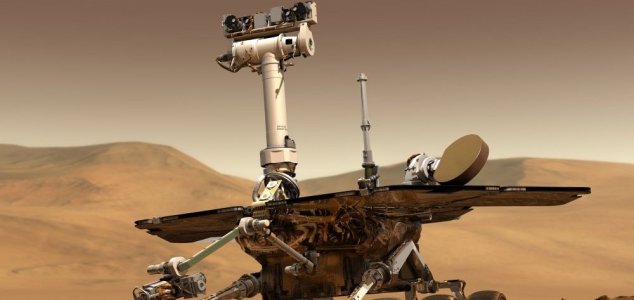 15 years is a long time to spend trundling around on another world.

Image Credit: NASA
The rover's 15-year anniversary has been sadly marred by the likelihood that its mission has come to an end.
Opportunity launched on July 7th, 2003 - three weeks after its twin rover Spirit - and landed on Mars at Meridiani Planum on January 25th, 2004 to begin its 90-day exploratory mission.
Incredibly, it managed to far exceed expectations by spending one-and-a-half decades exploring Mars.
Sadly though, following a dust storm last year, NASA has lost all communication with it, suggesting that its groundbreaking trek across the Red Planet's surface may have finally come to an end.
"Fifteen years on the surface of Mars is testament not only to a magnificent machine of exploration but the dedicated and talented team behind it that has allowed us to expand our discovery space of the Red Planet," said project manager John Callas.
"However, this anniversary cannot help but be a little bittersweet as at present we don't know the rover's status. We are doing everything in our power to communicate with Opportunity, but as time goes on, the probability of a successful contact with the rover continues to diminish."
Currently, NASA is attempting one more last-ditch effort to communicate with the rover by commanding it to switch to its backup X-band radio and to reset its internal clock.
"We plan to continue to pursue every logical solution that could put us back in touch," said Callas.
If this also fails however, it is likely that the rover's mission is well and truly over.
Source: Astronomy Now | Comments (4)
Similar stories based on this topic:
Tags: Opportunity, Mars