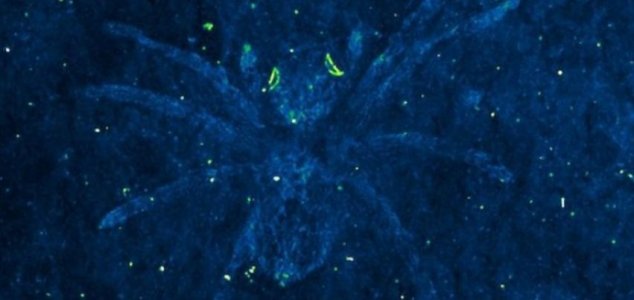 The eyes are visible in green in the image above.

Image Credit: Paul Selden / University of Kansas
Fossil spiders discovered in South Korea still have glowing eyes despite being over 110 million years old.
Unearthed in the Jinju Formation geological site, the well-preserved arachnids were found in shale by researchers at the Korea Polar Research Institute and the University of Kansas.
A total of 10 new spider fossils were discovered, including two that exhibited glowing eyes.
"Because these spiders were preserved in strange slivery flecks on dark rock, what was immediately obvious was their rather large eyes brightly marked with crescentic features," said Paul Selden, a geologist at the University of Kansas.
"I realized this must have been the tapetum - that's a reflective structure in an inverted eye where light comes in and is reverted back into retina cells."
It is believed that this is the only known case of tapetem preservation in the fossil record.
"In spiders, the ones you see with really big eyes are jumping spiders, but their eyes are regular eyes - whereas wolf spiders at nighttime, you see their eyes reflected in light like cats," said Seldon.
"So, night-hunting predators tend to use this different kind of eye."
Source: Science Alert | Comments (6)
Similar stories based on this topic:
Tags: Spider, Fossil