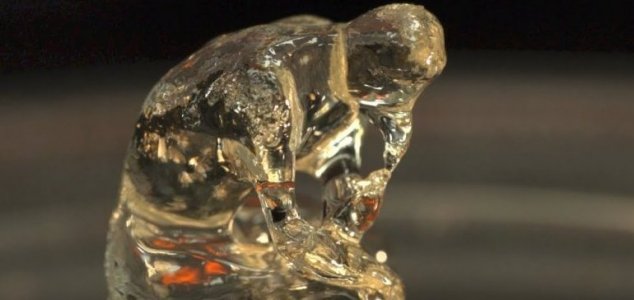 One step closer to Star Trek.

Image Credit: YouTube / Nature Video
A new type of 3D printer is able to materialize whole objects at once using light and a synthetic resin.
Developed by scientists at the University of California at Berkeley, the new 3D printer has been named 'replicator' after the devices in
Star Trek
which materialize food, clothes and other items out of thin air.
Unlike conventional 3D printers which work by building up an object layer by layer, the replicator works more like a reverse CT scan in that the operator first takes a 3D model of an object, uploads it on to a computer and then uses it to produce 2D photographs taken from all conceivable angles.
The object itself is created by selectively solidifying the contents of a cylinder of acrylate - a synthetic resin - by rotating the cylinder and projecting an image on to each corresponding side.
The resin solidifies once enough photons have been absorbed - thus gradually materializing the shape of the object that it is attempting to replicate.
While the current version of the machine can only create centimeter-sized objects, the technology has the advantage of being able to create much smoother objects than a regular 3D printer, as well as being able to form objects around other objects, such as to create the head of a screwdriver.
Its creators envisage that it should be particularly useful for creating bespoke medical components.
Source: Engadget | Comments (4)
Tags: Replicator, 3D Printing