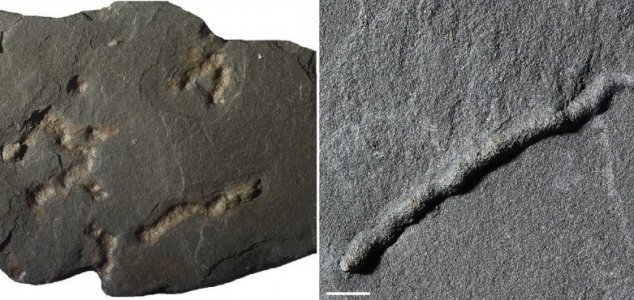 The fossil is remarkably well preserved.

Image Credit: A. El Albani / IC2MP / CNRS - Universite de Poitiers
Scientists have identified the fossilized tracks of a worm-like organism that lived 2.1 billion years ago.
The first single-celled organisms that lived on our planet were believed to have arisen in the Earth's oceans around four billion years ago, however it wasn't until much later that life developed the necessary complexity to facilitate motility - the ability to independently move around.
Now scientists studying ancient shale deposits recovered from a quarry in the Central African country of Gabon have discovered evidence of worm-like creatures dating back 2.1 billion years.
These tiny organisms were able to move through the soft mud, leaving a discernible trial behind them.
What makes the discovery particularly interesting is the fact that it predates the previously known evidence of motility on Earth by a whopping 1.5 billion years.
The find is just one of several made through a detailed analysis of the shale deposits which have offered up a veritable treasure trove of fossil evidence.
"What matters here is their astonishing complexity and diversity in shape and size, and likely in terms of metabolic, developmental and behavioural patterns, including the just-discovered earliest evidence of motility, at least for certain among them," said paleobiogeochemist Abderrazak El Albani.
"Life during the so-called Paleoproterozoic Era, 2.5 to 1.6 billion years ago, was not only bacterial, but more complex organisms had emerged at some point, likely only during some phases and under certain environmental circumstances."
Source: Reuters | Comments (2)
Similar stories based on this topic:
Tags: Life, Earth