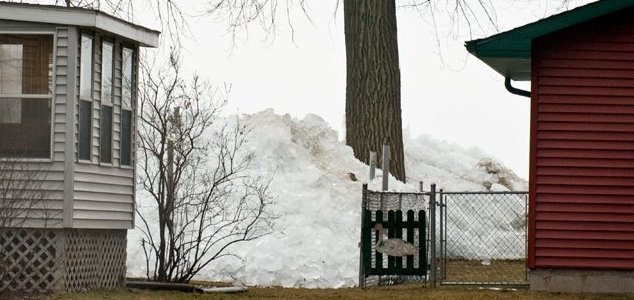 An ice tsunami or 'ice shove' can cause a lot of damage.

Image Credit: CC BY 2.0 bigcityal / Flickr
Huge chunks of ice thrust ashore by strong winds have been forming walls up to 40ft high near Buffalo.
The spectacular and unnerving phenomenon, which is more formally known as 'ice shove', happens when high winds and strong currents push large chunks of ice on to the shore.
The sound of the ice hammering the water's edge has often been likened to that of thunder.
"This is the first time in my entire life I've seen it come this high and this close to the house," said Hamburg resident Jack Schultz. "It came up in sheets. It just layered it up to the wall."
Some areas had to be evacuated as the ice wall threatened to envelop houses and streets.
The footage below, which was recorded by a cameraman during filming for a news report, shows just how dangerous the phenomenon can be.
Source: Huffington Post | Comments (4)
Tags: Ice Shove, Ontario, Buffalo, Lake Erie