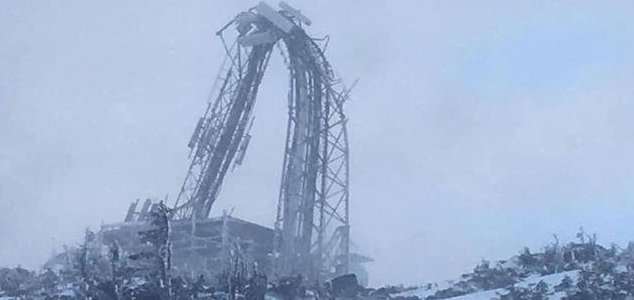 Luckily the summit had been closed at the time.

Image Credit: Trevor Dakers / Sugarloaf
A communications tower on Sugarloaf Mountain crumpled like tin foil in strong winds on Monday.
The dramatic scene, which resembled something from a post-apocalyptic science-fiction movie, was captured on camera by ski resort staff members after strong gusts caused the tower to collapse.
It is believed that the wind speed at the time had been well in excess of 100mph.
"The tower was pretty heavy with rime ice," said Sugarloaf Marketing Director Ethan Austin. "And then all this wind right after it. Sustained winds all day. Probably the combination did it in."
"We're the second tallest peak in the State of Maine, so we get pretty strong winds."
The tower, which is owned by TDS of Maine, was reportedly used by Homeland Security.
Fortunately nobody is believed to have been injured.
Source: WGME.com | Comments (8)
Tags: Sugarloaf, Wind, Tower