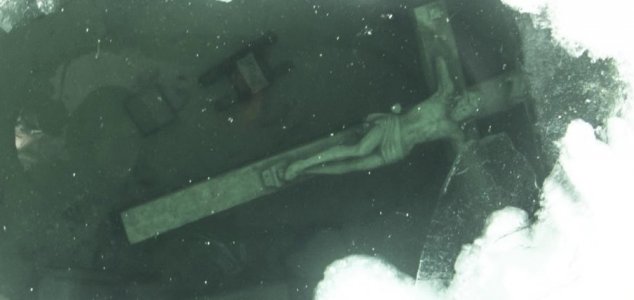 The crucifix is visible through a hole in the ice.

Image Credit: YouTube / Northern Michigan Aerial Services
A large marble crucifix at the bottom of the lake has been attracting visitors to Petoskey for decades.
The cross, which is situated 22ft beneath the water's surface in Little Traverse Bay, was originally commissioned in 1956 by a family whose young son had died in a farming accident.
When the $2,500 crucifix arrived however it was damaged and the family refused to accept it.
Instead, a local diving club member purchased it and placed it at the bottom of the bay to commemorate a fellow diver who had drowned.
It has since become a symbol of remembrance for all those who have died in the region's lakes.
Each year, conditions permitting, hundreds of people flock to the frozen lake to catch a glimpse of the crucifix through a specially cut hole in the ice.
Some footage from this year's event can be viewed below.
Source: LifeSite News | Comments (6)
Tags: Lake Michigan, Crucifix