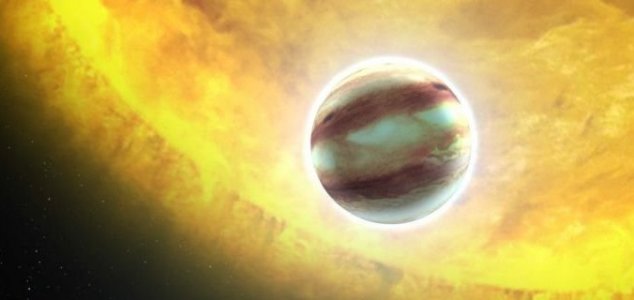 The conditions on hot Jupiter worlds are hellish to the extreme.

Image Credit: NASA; ESA; G. Bacon, STScI
Scientists at JPL have been working to simulate the atmospheric conditions found on 'hot Jupiter' planets.
These hellish extrasolar worlds, which range in size from around one-third to eleven times the mass of Jupiter, orbit their parent star at an extremely close distance resulting in very short orbital periods of fewer than ten days as well as extreme temperatures ranging in the thousands of degrees.
The research involved using a special high-temperature 'oven' to heat up hydrogen and carbon monoxide to temperatures exceeding 1,100 degrees Celsius - about the same as molten lava.
To best simulate the conditions found on an actual 'hot Jupiter' world, the team also exposed the mixture to high doses of ultraviolet radiation.
"Though it is impossible to exactly simulate in the laboratory these harsh exoplanet environments, we can come very close," said JPL principal scientist Murthy Gudipati.
In addition to highlighting new information about the opacity of these gas giants' atmospheres, the findings also revealed the presence of water vapor - something that was previously thought to form only when there is more oxygen than carbon (as oppose to equal amounts of both).
"These new results are immediately useful for interpreting what we see in hot Jupiter atmospheres," said JPL exoplanet scientist Mark Swain. "We've assumed that temperature dominates the chemistry in these atmospheres, but this shows we need to look at how radiation plays a role."
Source: Phys.org | Comments (1)
Similar stories based on this topic:
Tags: Extrasolar, Planet