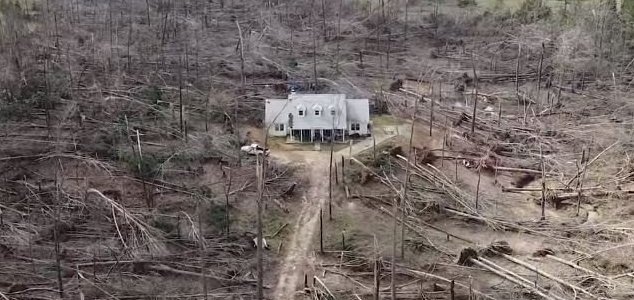 The occupants of this house were very fortunate indeed.

Image Credit: YouTube / Matt Gillespie
Remarkable drone footage recorded in Georgia shows one unscathed house surrounded by total devastation.
Matt Gillespie had been visiting his parents on March 4th when he decided to use a drone to record the aftermath of a tornado that had hit the towns of Ellersie and Waverly Hall.
The extreme wind had left a trail of destruction throughout the area with trees uprooted, houses destroyed and debris left strewn across the ground.
Perhaps the most surprising thing of all however was a single house that had somehow managed to remain untouched despite all the trees surrounding it being felled by the tornado.
"The residents of the house are OK," said Gillespie. "I don't know how many houses in total were messed up, but on that road there were at least eight that were affected."
"My parents experienced the tornadoes - my dad is in the military and he said he'd never been that scared in his life."
The owner of the intact house later posted on YouTube to confirm that they were all right.
"The community really pulled together to get our long driveway cleared so we were not trapped in," they wrote. "A lot of hard work and people were just pulling over to help out."
The house in question can be seen in the video below from 3:09s.
Source: Lad Bible | Comments (5)
Tags: Tornado