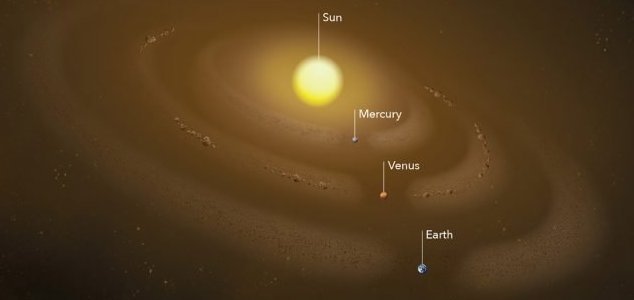 It turns out that Mercury has a dust ring too.

Image Credit: Mary Pat Hrybyk-Keith / NASA
A dust ring like that found in the orbits of the Earth and Venus has been found in the orbit of Mercury as well.
The discovery was made by solar scientist Guillermo Stenborg and colleagues who analyzed images from NASA's twin Solar and Terrestrial Relations Observatory (STEREO) spacecraft.
"People thought that Mercury, unlike Earth or Venus, is too small and too close to the sun to capture a dust ring," said Stenborg. "They expected that the solar wind and magnetic forces from the sun would blow any excess dust at Mercury's orbit away."
As it turned out however, there was far more dust than anyone had expected.
"It wasn't an isolated thing," said study co-author Russell Howard. "All around the sun, regardless of the spacecraft's position, we could see the same 5 percent increase in dust brightness, or density."
"That said something was there, and it's something that extends all around the sun."
Based on the team's calculations, Mercury's dust ring is around 9.3 million miles wide.
Exactly how this dust came to be there however currently remains unclear.
Source: Space.com | Comments (2)
Similar stories based on this topic:
Tags: Mercury, Dust Ring