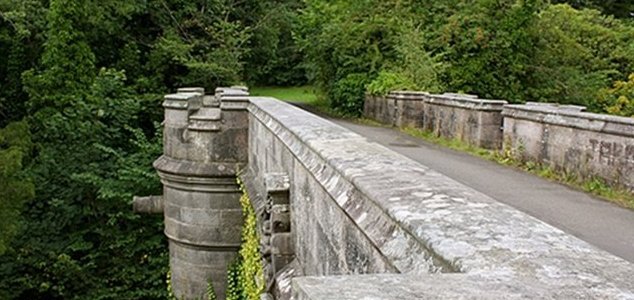 Why do dogs keep jumping off the side of Overtoun Bridge ?

Image Credit: CC BY-SA 3.0 Allan Ogg
A pastor believes that he may have determined why dozens of dogs have been leaping to their deaths.
In a small village in the Scottish Lowlands there exists a 19th century bridge with a strange presence that is believed to be responsible for sending hundreds of dogs leaping to their doom off its sides.
Over the past 60 years, the crumbling stonework has seen more than 600 dogs take the 50ft plunge with many of them meeting an untimely end at the bottom. Despite several investigations in to the phenomenon, nobody has been able to determine exactly what is influencing the animals to jump.
The problem became so bad that signs were erected to recommend that dogs be kept on a lead.
Now though, Bob Hill - a local pastor who has seen several dogs jump off the bridge over the last two decades - believes that the scent of small mammals may be the key.
"The dogs catch the scent of mink, pine martens or some other mammal and then they will jump up on the wall of the bridge," he said. "And because it's tapered, they will just topple over."
But could the answer really be so simple ? Philosophy and religion teacher Paul Owens, who has previously written a book about the mystery, remains unconvinced.
He, like several others in the area, believes that a spirit - possibly that of Lady Overtoun - haunts the bridge and that it is her presence that prompts the animals to jump over the side.
"When Baron Overtoun, who built the bridge, died in 1908 she was said to have wandered the bridge griefstricken for years," he said.
Whatever the case, unless a definitive explanation can be found soon, there is every possibility that the bridge will claim many more canine lives over the next few years.
Source: Telegraph | Comments (42)
Tags: Dog, Overtoun Bridge