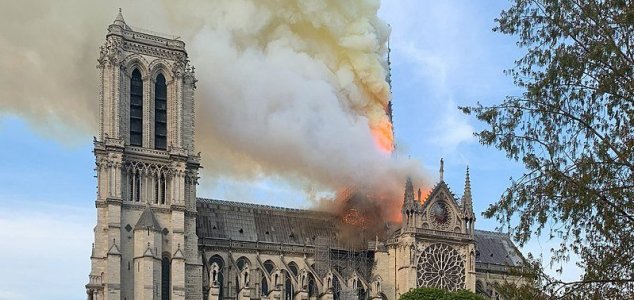 The entire roof of the cathedral was destroyed.

Image Credit: CC BY-SA 4.0 Wandrille de Preville
Some witnesses to the recent devastating fire believe that they've seen something otherworldly in the flames.
When the news broke that the iconic Parisian cathedral had become shrouded in flames earlier this week, countries around the world united in expressing their sadness and dismay.
While the fearless efforts of firefighters ultimately managed to save the building from being totally destroyed, back when the fire was still raging several witnesses claimed to have seen a visage of Jesus himself in the flames.
One image in particular (see below) has since been distributed around social media.
"When I looked at this photo last night, I was really astounded by what I saw," one woman told the
Daily Record
. "When I look at it I see a silhouette of Jesus. I really see a vivid image."
While the photograph does seem to show the shape of a figure in the flames, many have argued that this may be a case of pareidolia - the tendency for the human brain to see meaningful shapes in otherwise abstract patterns.
Ultimately however, perhaps the true meaning of the image lies simply in the beliefs of the observer.
Source: Huffington Post | Comments (27)
Tags: Notre Dame, Jesus