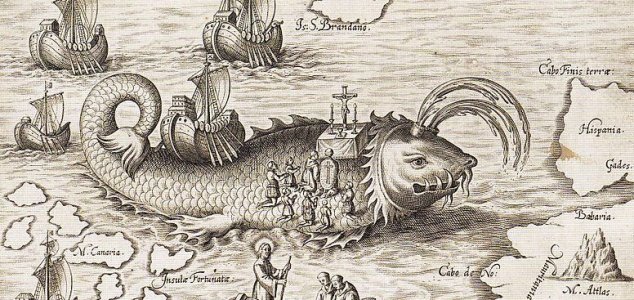 Depiction of a sea monster from 1621.

Image Credit: Chet Van Duzer
A new study has highlighted the role that fossils have played in influencing sightings of sea monsters.
The research was conducted by St Andrews University statistician Dr Charles Paxton who, along with palaeontologist Dr Darren Naish of Southampton University, analyzed 1,700 sea monster sightings dating back to between 1801 and 2015.
Over the years these stories have evolved from tales of giant fish and snake-like 'sea serpents' to stories of long-necked creatures similar to the iconic portrayal of the Loch Ness Monster.
The researchers found that the shape of the creature described in any given sighting seemed to be directly influenced by the dinosaur fossil discoveries of the time.
It's a concept that has been put forward before - most notably by 1960s sci-fi author L Sprague De Camp who wrote the
Conan the Barbarian
stories.
"The discovery of long-necked marine reptile fossils in the 19th century does appear to have had an influence on what people believe they have spotted in the water," said Dr Paxton.
"The problem is an interesting fusion of history and palaeontology which shows that statistics can be used to rigorously test all sorts of strange hypotheses, if the data is handled in the right way."
Source: The National | Comments (18)
Tags: Sea Monsters