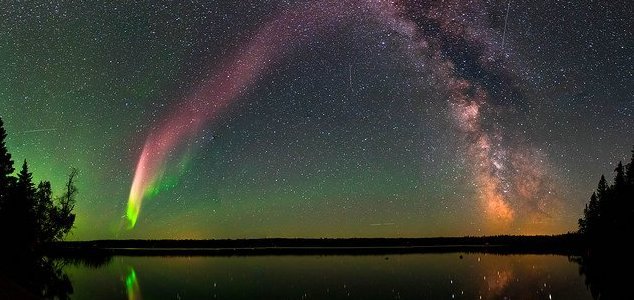 The name 'Steve' was inspired by the movie 'Over the Hedge'.

Image Credit: NASA
Scientists have solved the mystery of a strange glowing ribbon of green and purple light spotted over Canada.
Stretching from east to west, the peculiarly named 'Steve' was first picked up by members of Alberta Aurora Chasers - a Facebook group frequented by people looking to share information about the best places to photograph the Northern Lights.
Reaching temperatures of up to 10,800 degrees Fahrenheit ( the same as the Earth's core ), this peculiar phenomenon is 16 miles wide and thousands of miles long.
At the time, 'Steve' was deemed to be something completely new to science, but now, three years on from its discovery, a new study has finally cast light on the processes responsible for producing it.
The purple light, it turns out, is produced by particles that have been energized by the heat from the friction caused by hot plasma flows and powerful magnetic waves 15,000 miles above the Earth.
The green light, by contrast, forms in a similar way to auroras - by particles hitting the upper atmosphere - but tends to occur further south than conventional auroras.
Exactly why should this be so however continues to remain a mystery.
Source: Live Science | Comments (1)
Similar stories based on this topic:
Tags: Steve, Aurora