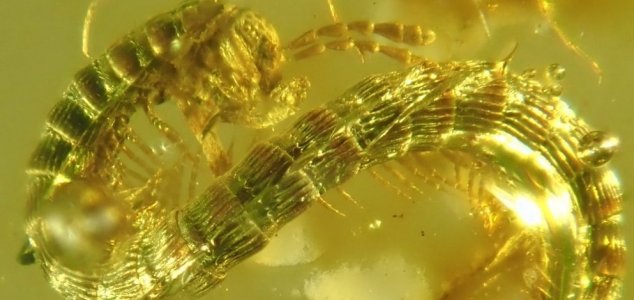 This millipede lived alongside the dinosaurs.

Image Credit: Leif Moritz
A remarkably well preserved millipede dating back 99 million years has been unearthed in Myanmar.
Measuring a mere 8.2mm in length, this tiny arthropod roamed the Earth during the Cretaceous - a time when similar species may have grown to sizes exceeding that of an adult human.
Using 3-D X-ray microscopy, scientists have been able to identify the specimen as completely new to science and the first millipede ever found of the order
Callipodida
.
It has been named
Burmanopetalum inexpectatum
, with 'inexpectatum' meaning 'unexpected'.
"We were so lucky to find this specimen so well preserved in amber!" said lead author Prof. Pavel Stoev. "With the next-generation micro-computer tomography (micro-CT) and the associated image rendering and processing software, we are now able to reconstruct the whole animal and observe the tiniest morphological traits which are rarely preserved in fossils."
"It came as a great surprise to us that this animal cannot be placed in the current millipede classification. "
Source: Phys.org | Comments (6)
Tags: Millipede, Amber