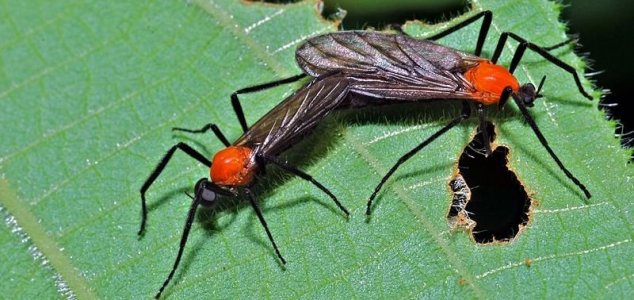 Lovebugs are literally inseparable.

Image Credit: CC BY-SA 2.0 Bernard DUPONT
The short-lived insects have embarked on their bi-annual flight, leaving streets and homes completely engulfed.
For Florida's Space Coast two times a year, venturing outside can be an exercise in frustration and disgust as millions of lovebugs fly through the air and cover every available surface.
These sizable insects, as their names suggest, spend their few days in the sun finding a partner and mating - often with the male and female being literally inseparable for almost the entire flight.
While lovebugs don't bite or sting, they remain a nuisance due to their acidic body chemistry which can be very problematic when large numbers of them die, pile up and decompose.
They are a particular menace for drivers due to their tendency to obscure windshields and to block radiator grills, often causing vehicles to overheat and making visibility difficult.
Their inherent attraction to light-colored surfaces can also be a nightmare for homeowners.
Lovebugs engage in two major flights each year, one during April-May and another in August-September. The females can lay up to 350 eggs which hatch after just 2-4 days.
Fortunately though, these pesky insects tend to live for only 3-4 days on average.
Source: USA Today | Comments (12)
Tags: Lovebugs, Florida