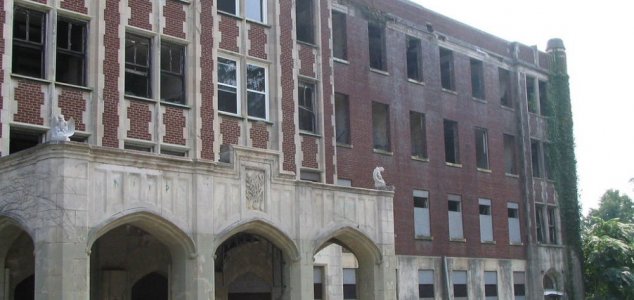 Would you spend the night here ?

Image Credit: CC BY 2.0 Aaron Vowels
Waverly Hills Sanatorium in Louisville, Kentucky is often regarded to be one of America's most haunted buildings.
Originally opened in 1910 as a small two-storey building for housing tuberculosis patients, Waverly Hills soon began to expand exponentially after an epidemic ravaged the population.
It is believed that as many as 60,000 patients lost their lives while battling the disease within the sanatorium's walls. Many of the bodies were unceremoniously dumped down the infamous 485ft "death chute" that was used to help the hospital staff dispose of them more efficiently.
In 1962 the building was turned in to a nursing home for the elderly but ended up being closed after two decades following reports of patient neglect. In 1983 there were plans to turn the sanatorium in to a prison, however the idea fell through due to complaints from neighboring properties.
In more recent years, Waverly Hills has found a new calling as a destination for paranormal investigators and enthusiasts who come hoping to encounter something unexplained.
As many as 35,000 people attend guided 'ghost' tours of the building each year.
"They come from Ireland, China, Australia, Russia," said executive director Tina Mattingly.
"If it wasn't for them, this building would not be saved. It's the people that are saving it, that come here to go on tours. And it's the building that's drawing the people here."
"This is a memorial to all the people that came through here and it deserves to be saved."
Source: KWTX.com | Comments (14)
Tags: Waverly Hills, Haunting