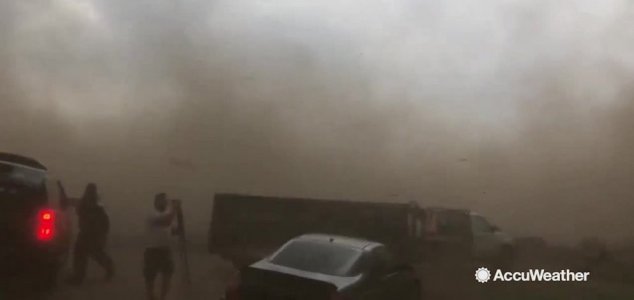 Storm chasing is a risky business.

Image Credit: YouTube / AccuWeather
Meteorologist Reed Timmer recently got more than he bargained for when a tornado formed right on top of him.
The self-described 'extreme' storm chaser had been attempting to intercept a tornado in Nebraska on Friday evening when a powerful vortex suddenly formed overhead.
"I was unable to get back to the vehicle and couldn't see it, so I just turned my back to the wind and hoped for the best until it passed," he said.
Keeping his camera rolling the whole time, Timmer managed to capture the insane experience of being trapped within the swirling mass of dust, dirt and debris.
At one point his hat blew off and quickly disappeared in to the distance.
When the wind finally started to die down, Timmer found that he (as well as the inside of his car) had become covered in manure that had been swept up off a nearby field.
"I was digging that field manure out of my ears, and it was covering my face as well," he said.
You can view the footage he captured for yourself below.
Source: Accuweather | Comments (2)
Tags: Tornado, Storm Chaser