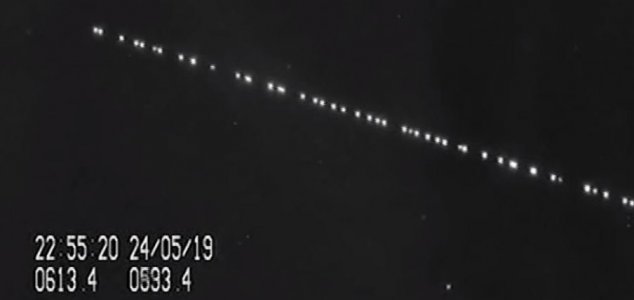 What are these lights ?

Image Credit: YouTube / Marco Langbroek / VideoFromSpace
A Dutch UFO website was inundated with reports on Saturday after a conga line of lights appeared in the sky.
The spectacle, which was visible across the Netherlands, had sparked fears of an alien invasion.
As it turned out however, the explanation was a lot more mundane.
The lights were actually satellites launched a few hours earlier by SpaceX as part of Elon Musk's "Starlink" space-based Internet communication system.
A total of 60 satellites were sent up, however it is expected that the Starlink constellation will be made up of a whopping 12,000 satellites by the mid-2020s.
What made the launch particularly noteworthy in this case was the way the satellites formed a long line in the sky, leading unwary skywatchers to report that they had seen an armada of UFOs.
It is expected that the satellites will spread out and appear dimmer over time.
Source: Phys.org | Comments (12)
Tags: Starlink, UFO