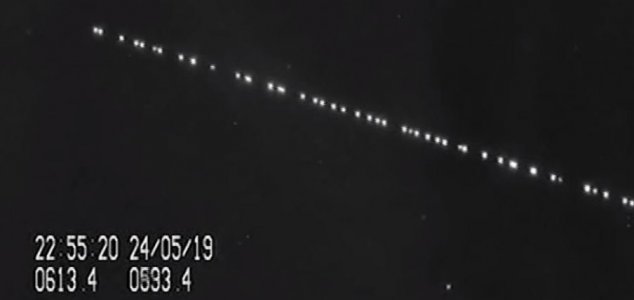 One example of a Starlink sighting.

Image Credit: YouTube / Marco Langbroek / VideoFromSpace
An ambitious effort to bring satellite Internet access to all could end up generating countless UFO reports.
With as many as 40,000 satellites set to be launched over the next few years, Starlink aims to bring inexpensive Internet access to countries all over the world.
Up to 60 satellites are already being launched every two weeks and this trend shows no sign of stopping, much to the ire of astronomers who have accused SpaceX of polluting the night sky.
But there is another, less obvious consequence of these launches - erroneous UFO sightings.
Immediately after launch, Starlink satellites can appear as a long train of lights swiftly moving across the night sky - a spectacle that has already managed to generate confusion and intrigue.
Over time, as more of these satellites are placed in orbit, more and more people will see them.
To combat this, various UFO organizations have moved to highlight such reports in their databases.
"For the time being, we have included in our database of sightings the several hundreds of reports we received about the cluster, principally to illustrate how easy it is to cause human observers to be deceived by a new, and eye-catching, visual phenomenon," NUFORC wrote last month.
As things stand, it is likely that we can expect to see countless more UFO reports attributed to these launches over the coming months and beyond.
The skies, it seems, are about to become very crowded indeed.
Source: CNET.com | Comments (11)
Similar stories based on this topic:
Tags: SpaceX, Starlink, UFO