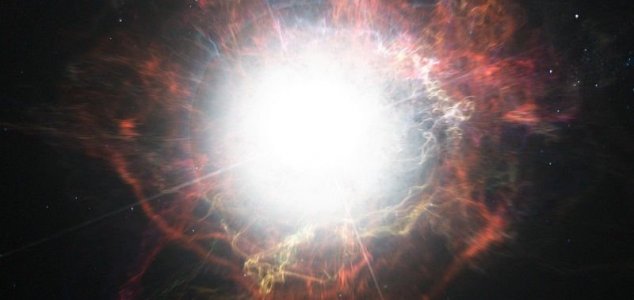 A very close supernova could wipe out all life on Earth.

Image Credit: CC BY 4.0 ESO/M. Kornmesser
A new study has linked a 2.6 million-year-old supernova explosion with our ancestors' move to bipedalism.
While scientists have long suspected that the shift towards walking upright was prompted by major environmental changes, exactly what brought about these changes has long remained unclear.
Now though, a new study published in the
Journal of Geology
has put forward the theory that a supernova explosion - which happens when a very large star dies - may have been responsible.
This cataclysmic event, the researchers argue, could have charged the Earth's atmosphere, increasing the frequency of lightning strikes and causing immense wildfires.
With fewer trees to climb and larger expanses of grassland to cross, our ancestors may have shifted to walking upright to help them move more quickly and to keep a better eye out for predators.
"After this conversion to savanna, they would much more often have to walk from one tree to another across the grassland, and so they become better at walking upright," said lead author Adrian Melott.
"They could see over the tops of grass and watch for predators. It's thought this conversion to savanna contributed to bipedalism as it became more and more dominant in human ancestors."
Source: BGR.com | Comments (8)
Tags: Supernova