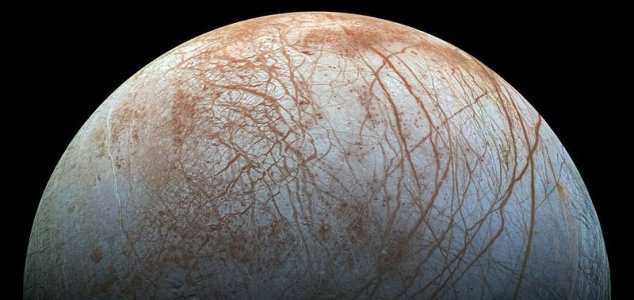 Europa's subterranean ocean may be filled with salt.

Image Credit: NASA/JPL-Caltech
Scientists have determined that Europa's ocean may be more like the Earth's oceans than previously thought.
The discovery was made by using the Hubble Space Telescope's Imaging Spectrograph (STIS) instrument to detect the 'spectral signature' of irradiated salt on the Jovian moon's surface.
While NASA's Voyager and Galileo spacecraft had previously detected the presence of salt on Europa, it was thought that this was magnesium sulphate-based rather than sodium chloride.
"No one has taken visible-wavelength spectra of Europa before that had this sort of spatial and spectral resolution," said planetary scientist and lead study author Samantha Trumbo.
"The Galileo spacecraft didn't have a visible spectrometer. It just had a near-infrared spectrometer, and in the near-infrared, chlorides are featureless."
While the discovery is not a guarantee that Europa's ocean is filled with table salt, the sodium chloride detected on the surface is situated in regions where the surface ice has broken up, suggesting that it may well have been seeping up from the water below.
"Magnesium sulfate would simply have leached into the ocean from rocks on the ocean floor, but sodium chloride may indicate the ocean floor is hydrothermally active," said Trumbo.
"That would mean Europa is a more geologically interesting planetary body than previously believed."
Source: Science Alert | Comments (5)
Similar stories based on this topic:
Tags: Europa, Salt