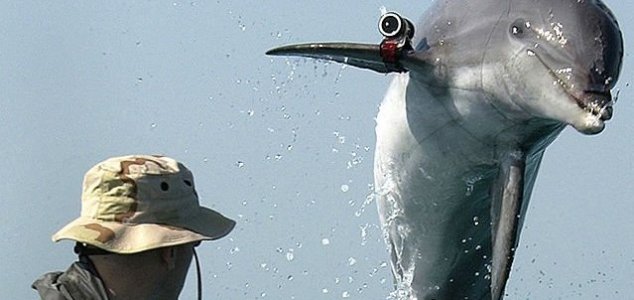 The CIA dabbled with using animals as spying platforms.

Image Credit: US Navy
Newly released documents have revealed how the CIA used birds and other animals during the Cold War.
When it came to spying on the Soviets, no stone was left unturned.
Throughout the 1970s, the CIA investigated the use of various types of animals in their efforts to learn what their enemies were up to, with some of them being more effective as spies than others.
Declassified files reveal that at one point the use of cats as free-roaming surveillance devices was considered, while another project sought to use brain implants to create remote-controlled dogs.
There were even attempts to train dolphins either to sabotage Soviet vessels or to spy on them.
Most notable however were the CIA's efforts to train and use birds.
One project investigated the possibility of using ravens to drop surveillance devices on to windowsills or even to take photographs. One bird in particular - a raven named Do Da - had seemed particularly promising until it was attacked by other ravens during a training mission and was never seen again.
Perhaps the most successful of all these projects were those involving the use of pigeons. Hundreds of the birds were acquired and trained by the CIA to use in test missions over US soil.
In the end however the idea was scrapped due to how unreliable they were.
Source: NDTV.com | Comments (9)
Similar stories based on this topic:
Tags: Cold War, CIA