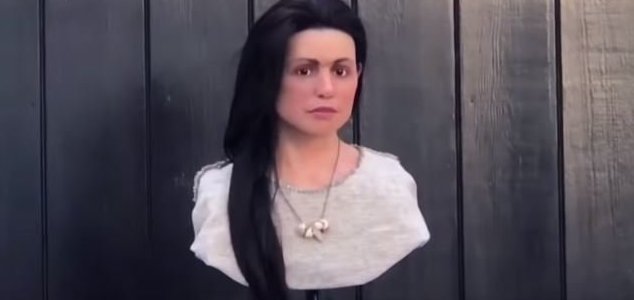 The reconstruction was breathtakingly detailed.

Image Credit: YouTube / Gibraltar Chronicle
Forensic experts have created a detailed reconstruction of a Neolithic woman found in a cave in Gibraltar.
Named Calpeia in reference to Gibraltar's classical name, the woman, who was thought to have been in her 30s when she died, was painstakingly recreated over a six-month period by a team led by Gibraltar National Museum Conservator Manuel Jaen.
Her remains were discovered buried in a cave in 1996.
"We were able to extract DNA from the skull so we know a number of things," said Professor Clive Finlayson. "We know she was a female, we know she had features associated with dark hair/eyes."
"And the interesting thing was when we look at her ancestry, 10 per cent of her genes were local Mesolithic hunter gatherers', but 90 per cent of her genes were from Anatolia [modern-day Turkey]."
The completed reconstruction was unveiled by Minister for Heritage Dr John Cortes on Sept 10th.
"When I saw what you are about to see a few days ago it was breath-taking, congratulations to Manuel for this incredible piece of work," he said. "This young lady, I think she was late 30s early 40s, lived in Gibraltar seven and a half thousand years ago. She was buried in a cave at Europa Point."
Source: Chronicle.gi | Comments (16)
Similar stories based on this topic:
Tags: Neolithic