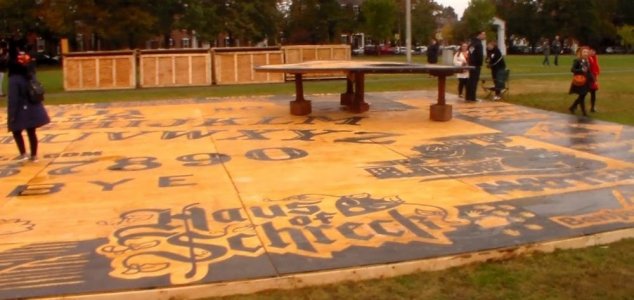 The board is based on the original Parker Brothers' design.

Image Credit: YouTube / TruthBeTold7
A gigantic record-breaking version of the infamous spirit board has been set up on the historic Salem Common.
A staple of horror movies, paranormal investigations and mediumship sessions for over a century, the Ouija board is normally operated by having participants place a finger on a planchette which then moves between the printed letters and words to spell out a message from beyond the grave.
Operating this particular Ouija board however requires a great deal more than a single finger.
Dubbed 'Ouijazilla', the gargantuan creation is the work of Rick 'Ormortis' Schreck - vice president of the Talking Board Historical Society - who spent the better part of a year putting it together.
Weighing in at 9,000 pounds and measuring 3,168 square feet, the board was put on display this weekend at Salem Common where visitors have been left amazed by its huge size.
The planchette, which alone weighs 400 pounds, is designed to be moved by just one person.
Whether the board will pick up any messages from the other side however remains to be seen.
Source: Geek.com | Comments (23)
Similar stories based on this topic:
Tags: Ouija Board, Salem