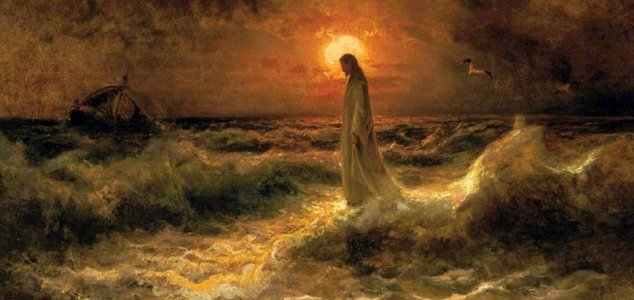 Now you, too, can walk on water... sort of.

Image Credit: Julius von Klever
A bizarre new type of footwear inspired by the Biblical story of Jesus walking on water recently went on sale.
The insanely expensive shoes, which are essentially a reworking of the Nike Air Max 97s, were launched in a limited capacity by Brooklyn-based company MSCHF last week.
Adorned with various items of religious iconography, the shoes feature laces made from 100 percent frankincense wool, a crucifix attached to the front and references to a Biblical passage on the side.
Their most distinguishing feature however are soles injected with blue-colored Holy water to simulate the concept of Jesus walking on water.
"We thought of that Arizona Iced Tea and Adidas collab, where they were selling shoes that [advertised] a beverage company that sells iced tea at bodegas," said MSCHF's Daniel Greenberg.
"We were wondering, what would a collab with Jesus Christ look like?"
If you have $3,000 to spare and are looking to pick up a pair however you may be out of luck because the shoes sold out within a matter of minutes.
On the plus side, there are hints to suggest that a second batch is not outside the realms of possibility.
Source: Lad Bible | Comments (39)
Similar stories based on this topic:
Tags: Jesus, Shoes