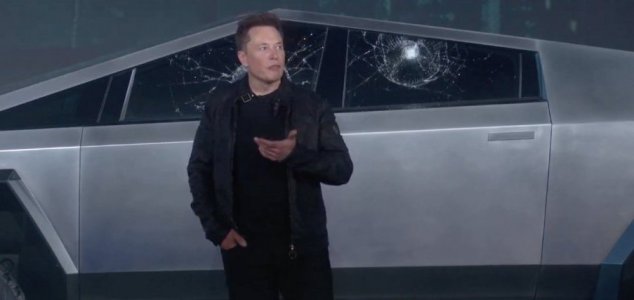 Both windows were smashed during the live presentation.

Image Credit: Tesla
The reveal of Tesla's controversial new super-tough cyberpunk truck didn't go quite according to plan.
It might look like the DeLorean from 'Back to the Future' rendered using the graphics chip of a PlayStation 1, but inside, the appropriately named Cybertruck is anything but retro.
Fully electric and brimming with the same automated technologies common to all flagship Teslas, this futuristic pickup truck - which is adorned with stainless steel panels and reinforced windows - is also advertised as being super tough and capable of withstanding a whole world of punishment.
Things didn't exactly go according to plan during the reveal however when lead designer Franz von Holzhausen threw a metal ball at the front and rear windows to show how hard they are to break.
In predictable fashion, both panes of glass broke.
"Room for improvement," said CEO Elon Musk. "It didn't go through, that's a plus side."
"We threw wrenches, we threw literally the kitchen sink at the glass and it didn't break. For some reason it broke now... I don't know why."
Mishaps aside, it is unclear who is likely to actually buy the new truck. Its strange design, which has so far proven rather divisive, is certainly not going to appeal to everyone.
With prices starting at $39,900 - it may be a tough sell compared to a conventional pickup truck.
Source: BBC News | Comments (46)
Tags: Cybertruck