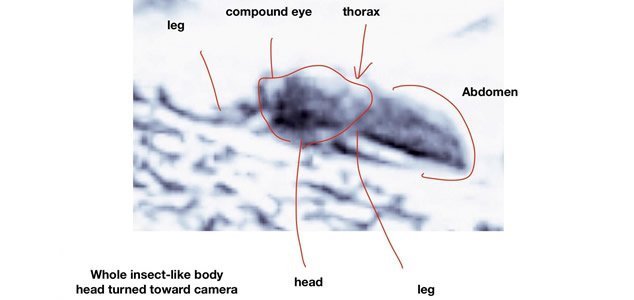 One of Romoser's proposed Mars 'insects'.

Image Credit: NASA / Dr. William Romoser
A press release concerning an Ohio University scientist's discovery of insects on Mars has been taken down.
The original paper, which contends that there are live insects crawling around on the Red Planet, comes courtesy of Dr. William Romoser - an entomologist who has reportedly spent several years closely studying photographs taken by NASA's Mars rovers.
"There has been and still is life on Mars," he said.
"There is apparent diversity among the Martian insect-like fauna which display many features similar to Terran insects that are interpreted as advanced groups - for example, the presence of wings, wing flexion, agile gliding/flight, and variously structured leg elements."
"Once a clear image of a given form was identified and described, it was useful in facilitating recognition of other less clear, but none-the-less valid, images of the same basic form."
Unsurprisingly, since appearing online Dr. Romoser's research has been subject to a hefty degree of skepticism with other scientists arguing that his images of 'insects' are little more than examples of pareidolia - the tendency for the human brain to see meaningful shapes in otherwise abstract patterns.
It appears that Ohio University agrees with them because the original press release has now disappeared from its website.
The exact reason for this remains unclear - perhaps the controversial nature of the research had drawn too much negative attention towards the university.
"The faculty member no longer wishes to engage with media regarding this research, so we have opted to remove the story from our website," an Ohio University spokesperson told
Futurism
.
Source: IB Times | Comments (70)
Similar stories based on this topic:
Tags: Mars