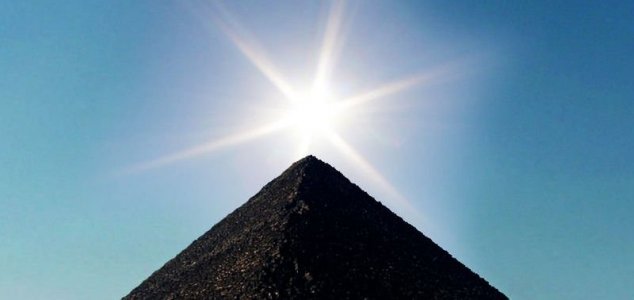 The asteroid has a distinctive shape.

Image Credit: CC BY-SA 2.5 Nina Aldin Thune
A large space rock the approximate size and shape of the Great Pyramid of Giza is set for a close encounter.
The object, which measures 427ft across, is one of several that will fly past our planet this weekend.
According to NASA's Center for Near-Earth Object Studies however there is nothing to fear - the asteroid, which has been named VH5 2019, will pass us by at a safe distance of 4.27 million miles.
To compare, the Moon is situated an average of 238,855 miles from the Earth.
A similarly Egyptian themed (and potentially more dangerous) space rock is Apophis - a 340m-wide asteroid first spotted by astronomers at the Kitt Peak National Observatory, Arizona in June 2004.
At the time, Apophis turned heads when it was deemed to have a 2.7% chance of striking the Earth in 2029, however this has since been revised down to just 1 in 100,000.
Another potentially catastrophic asteroid - 2009 FD - was thought to have a 1 in 710 chance of striking out planet in the year 2185, causing widespread devastation.
Fortunately however the risk of this has since been reduced as well with scientists now estimating that the asteroid only has a 1 in 100 million chance of hitting in the year 2190.
Source: Independent | Comments (14)
Similar stories based on this topic:
Tags: Asteroid, Pyramid