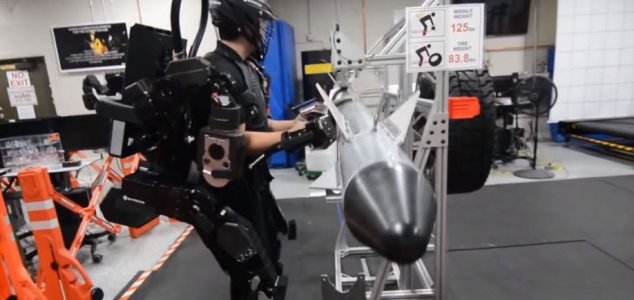 The Guardian XO looks like it belongs in a sci-fi movie.

Image Credit: YouTube / IEEE Spectrum
The Guardian XO is a fully working powered exosuit that enables the wearer to lift and move heavy loads.
Developed by Sarcos Robotics, the impressive device, which has been designed primarily with military and industrial applications in mind, takes all the strain off the wearer's arms, legs and back so that large, heavy objects can be picked up and carried around with ease.
With a hot-swappable battery lasting up to eight hours, the exosuit doesn't interfere with the wearer's ability to move and walk around and is capable of lifting loads of up to 200 pounds.
The first units, which will be going to the US military, are set to roll out in January while commercial units will be available for businesses to purchase in late 2020.
In a recent demonstration, the Guardian XO was shown enabling a single worker to move a missile from one location to another - a job that would have typically taken three people.
The exosuit will also prove particularly useful in the construction industry where it will make it possible for workers to move girders, piles of bricks and other materials quickly and easily.
You can check out the Guardian XO in action in the video below.
Source: CNET.com | Comments (11)
Tags: Exoskeleton