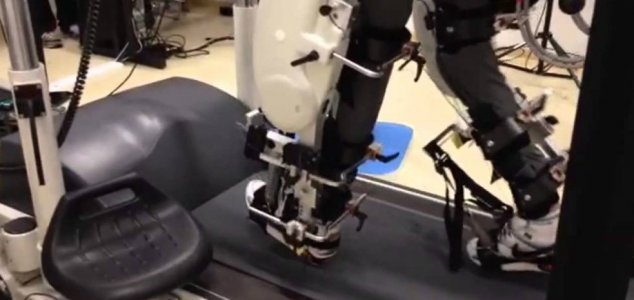 Scientists have been developing the exoskeleton for years.

Image Credit: YouTube / The Guardian
A paralysed person wearing an advanced exoskeleton will kick off the world's biggest football event.
During the World Cup opening ceremony in Sao Paulo a paraplegic, whose name has yet to be revealed, will stand up from their wheelchair and kick the ball using an Iron Man-like robotic suit controlled directly by signals from their brain.
"It's the first time an exoskeleton has been controlled by brain activity," said Dr Miguel Nicolelis. "Doing a demonstration in a stadium is something very much outside our routine in robotics. It's never been done before."
The exoskeleton works by picking up the wearer's brain signals and translating them in to physical movements. In the future suits like this could allow people with paralysis to leave their wheelchairs behind on a permanent basis.
"In 2009, after we learned Brazil was hosting the World Cup, they asked me for ideas to show Brazil in a different way than the world usually sees it," said Dr Nicolelis. "That's when I suggested doing a scientific demonstration to teach people that Brazil is investing and has human potential to do things beyond football."
Source: Sydney Morning Herald | Comments (15)
Tags: Football, World Cup, Exoskeleton, Robot