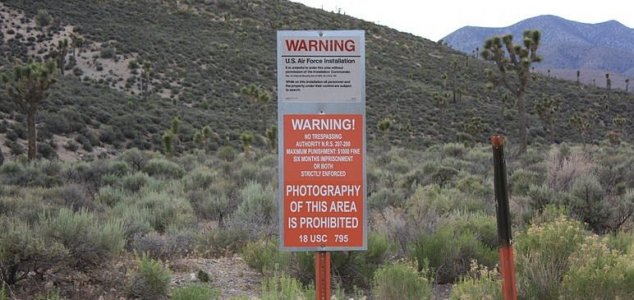 Only authorized personnel are permitted free reign of the base.

Image Credit: CC BY-SA 3.0 Tim1337
Many who venture onto the secretive military base are expected to don a special type of eyewear.
It's certainly no surprise that Area 51, which ironically is probably the best known secret base in the world, has some particularly tight security measures in place to stop people finding out what's there.
But while keeping unauthorized personnel from entering the facility is relatively simple, stopping official visitors from seeing more than they need to see is another matter entirely.
In a recent article for
The Drive
, defense expert and author Tyler Rogoway describes one trick that officials at the base employ to get around this problem - kitting out visitors with special goggles that are designed to deliberately obfuscate anything not directly in the front or below them.
Known as foggles, these strange items of eyewear are comprised of fogged-out wrap-around lenses with a clear area covering only the direction(s) the wearer needs to see.
Such goggles are also used for pilot instrument training and other similar purposes.
According to Rogoway, visitors without appropriate clearance are frequently issued with foggles so that they can't get a look at anything around them as they arrive at the facility and can only remove them once they have entered a secure windowless building.
Even VIPs visiting the facility may be issued with them depending on who they are.
It is also quite likely that similar precautions are taken at other (even more secret) bases as well.
Source: The Drive | Comments (2)
Similar stories based on this topic:
Tags: Area 51