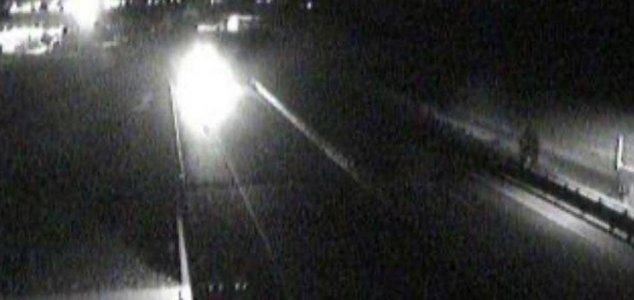 The figure is visible on the right.

Image Credit: Facebook / Umatilla / Morrow County Watch
A traffic camera in Oregon has captured an image that seems to back up a man's story of encountering Bigfoot.
According to a Facebook page set up to monitor police and fire scanner reports in Morrow County, authorities recently received a 'frantic' call from a motorist who had seen something unusual.
He described how he had encountered a creature at the side of the road near the Hood River exit.
This gargantuan biped, he claimed, was "dwarfing the guard rail" and was "too big to be a bear."
Keen to solve the mystery, the dispatcher reportedly checked traffic cameras in the area and was able to pull up images of the very same stretch of road at the time of the sighting.
Incredibly, the images showed a large figure walking along the side of the road.
While it's impossible to make out any significant details, the mysterious figure certainly does look big.
Could this be evidence that there really was a Bigfoot wandering along the side of the highway ?
Update:
Thanks to UM forum member fred_mc for finding this - a daylight image from the same traffic camera on the same stretch of road (
click here
) shows that the 'Bigfoot' is still there; turns out that it is actually nothing more than a tree or bush at the roadside.
This also explains what the motorist must have seen while driving past in the dark.
Source: Facebook | Comments (15)
Similar stories based on this topic:
Tags: Bigfoot