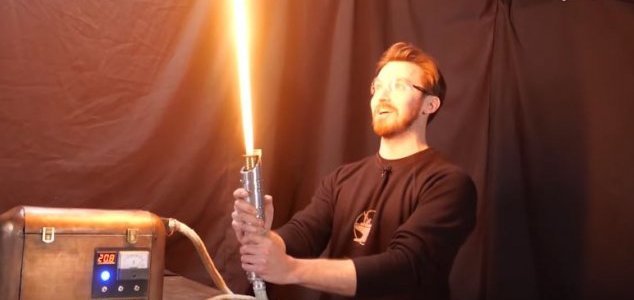 It looks impressive, but it can also quite easily kill you.

Image Credit: YouTube / the Hacksmith
A popular YouTuber has designed and built an actual functioning protosaber that can literally melt your face off.
With 'Star Wars: The Rise of Skywalker' in cinemas this month, it is only fitting that someone should have another stab at building a real-life version of the movie's legendary Jedi weapon.
This latest attempt, which was put together by the team over at
The Hacksmith
, is not only the most realistic that we've seen to date but is also the most dangerous by a country mile.
Consisting of a long metal rod to act as the blade of the weapon, the prototype saber is heated up using an external power pack until it literally glows bright orange.
Once fully heated, it is capable of slicing and melting through a variety of objects, including the body of whoever is insane enough to actually try wielding the thing.
While it isn't quite the same as the lightsabers in the movies, it does resemble the so-called 'protosaber' - a precursor to the lightsaber that has been mentioned in
Star Wars
lore.
Suffice to say, it's not something you'd want to be slapping your friends around with.
You can check out a video showing the device being built and tested below.
Source: Unilad.co.uk | Comments (23)
Tags: Lightsaber, Star Wars