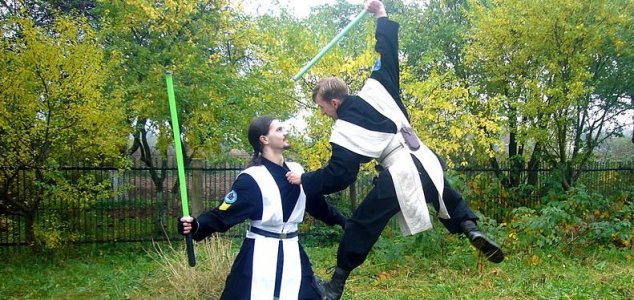 The lightsaber is one of the most recognizable weapons in movie history.

Image Credit: CC BY-SA 3.0 Master Alexus
Physicists have been able to create a form of 'light-matter' reminiscent of the lightsabers in Star Wars.
The research focuses on the way in which light particles known as photons, which possess no detectable mass, interact with one another. Photons are traditionally unable to stick together so that if two lasers beams were to collide for instance they would simply pass through one another.
Physicists Mikhail Lukin and Vladan Vuletic however have managed to change all that by developing a way to get photons to stick together to form light molecules. The resulting 'light-matter' is similar in concept to the lightsabers in Star Wars that consist of a solid and coherent blade of light. "The physics of what's happening in these molecules is similar to what we see in the movies," said Lukin.
While it sounds promising, the concept at the moment exists only in the lab and can only be reproduced under very special conditions that exist nowhere else on Earth. Scientists believe that this technology could prove invaluable in the future development of quantum computers and that it may eventually be possible to produce entire crystals entirely out of light.
Source: CNN | Comments (6)
Tags: Lightsaber