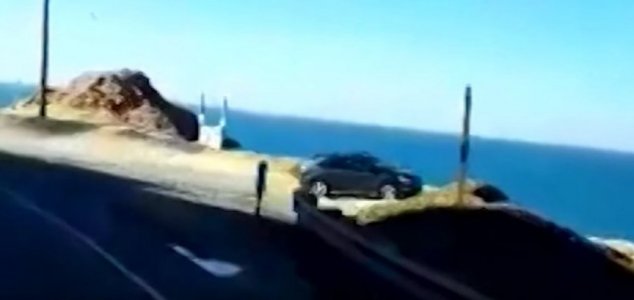 What happened to the car and its occupants ?

Image Credit: California Highway Patrol
Police in California have appealed for information after footage emerged showing a car driving over a cliff.
The shocking clip, which was filmed by the dashcam of another vehicle traveling the opposite direction, shows a green Lexus RX careening off the road and over the edge at full speed.
The incident, which occurred on the SR-1 coastal highway south of Gray Whale Cove on December 30th at 10:38am, sparked a major search-and-rescue operation covering several days and involving multiple departments.
In a peculiar twist however, rescuers were unable to find any trace of the vehicle or its occupants - it was as if the car had vanished into thin air after driving over the side of the cliff.
According to the San Mateo County Fire Department, tyre tracks were found at the scene and some debris was found in the water below, however it isn't clear if it is connected to the SUV.
There is a 75ft drop from the top of the cliff to the rocks below.
Authorities are now appealing to the general public for any information about the incident and have not ruled out the possibility that the whole thing could be some sort of hoax.
If someone really did plummet over the cliff edge however, it's unlikely that they would have survived.
You can check out the dashcam footage below.
Source: Driving.co.uk | Comments (77)
Similar stories based on this topic:
Tags: Car, Cliff