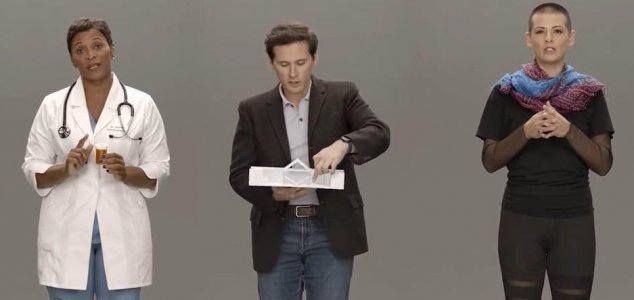 These are all examples of 'Neons' - realistic digital avatars.

Image Credit: Neon
The tech giant has lifted the lid on a type of super-realistic digital person unlike anything seen before.
The mysterious project - dubbed Neon - had been hinted at for weeks, however until now nobody really had any idea what it actually was or what it could do.
Now at last Samsung has revealed that Neon is not an artificial intelligence, but an artificial human - an extremely realistic, animated computer reproduction of a person with movement and emotions.
Developed by Samsung's Technology and Advanced Research Labs and revealed at CES in Las Vegas on Monday, Neon has been described as "a computationally created virtual being that looks and behaves like a real human, with the ability to show emotions and intelligence."
"Neons are not AI assistants," said Samsung. "Neons are more like us, an independent but virtual living being, who can show emotions and learn from experiences."
"Unlike AI assistants, Neons do not know it all, and they are not an interface to the Internet to ask for weather updates or to play your favorite music."
What this means is that Neon won't directly replace something like Amazon Alexa, however in the future it could act as a mouthpiece for personal assistants and other similar devices.
Imagine a medical AI that looks like an actual human doctor, for instance.
"Neons will be our friends, collaborators and companions, continually learning, evolving and forming memories from their interactions," said Neon CEO Pranav Mistry.
A beta version of the technology is expected to launch later this year.
Source: CNET.com | Comments (25)
Similar stories based on this topic:
Tags: Artificial Intelligence, NEON