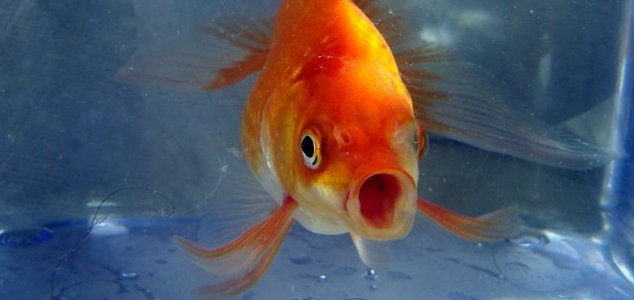 Goldfish and nursery web spiders don't mix...

Image Credit: CC BY-SA 3.0 Pogrebnoj-Alexandroff
A tour guide in South Africa recently posted up a photograph showing the fate of his prized goldfish Cleo.
What's the worst thing that can happen to the fish in your garden pond ?
While hungry birds or the possibility of disease may seem like the biggest problems fish face - one man in South Africa recently came across something even worse - a predator of an 8-legged variety.
Jeremy Schalkwijk had been hoping to show his pet goldfish to his date when, to his surprise, he discovered that his prized fish was not in the pond but suspended several centimeters above it.
The culprit, it turned out, was a huge spider that had literally plucked the hapless fish from the water.
Known as the nursery web spider, this semi-aquatic arachnid is capable of not only walking on water but also diving beneath it and grabbing fish several times its own size.
In this case, poor Cleo was positively enormous compared to the spider that had caught her.
Sadly though, she is not thought to have survived the ordeal.
Source: Live Science | Comments (11)
Similar stories based on this topic:
Tags: Spider, Fish