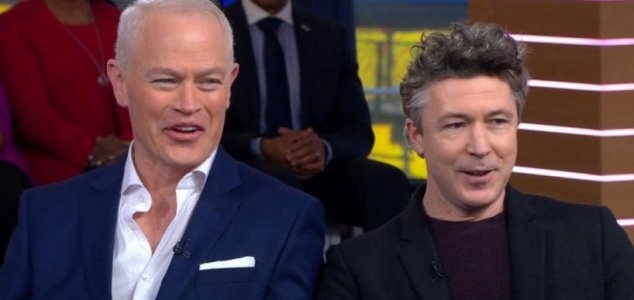 Have the actors's beliefs been influenced by the show ?

Image Credit: YouTube / Good Morning America
During a recent TV interview, Aiden Gillen and Neal McDonough expressed their own thoughts on UFOs.
The popular science-fiction series, which is airing now on 'History' (formerly 'The History Channel'), is the latest attempt to combine a TV drama with real-life events relating to the UFO phenomenon.
The actual Project Blue Book was an in-depth study of unidentified flying objects carried out by the US Air Force in the 1950s and 1960s. Its goal was to determine whether or not UFOs were a threat to the United States while also scientifically analyzing all known data about the phenomenon.
Gillen (Petyr Baelish in Game of Thrones) plays J. Allen Hynek - the astronomer and UFO researcher who originated the 'Close Encounter' UFO classification system and a scientific advisor to three US Air Force UFO studies including Project Blue Book.
McDonough, meanwhile, plays General James Harding - a high ranking government official based on real-life USAF general William Garland who was also involved in the project.
But what do the cast members of the show actually think about the possibility of alien visitation ?
"The idea of us not being the only life forms in the universe is not outrageous", Gillen said during a recent interview on
Good Morning America
.
"I'd like to think that at some point in our future we'd be able to make contact and probably will."
McDonough shared similar views.
"It's interesting," he said. "Being a devote Catholic, who knows what else is out there - for us to think that it's just us... I'm not so sure. But I certainly don't look at the night sky the same way any more."
"I go outside with my five kids and my wife and I look at the sky and I think... 'hmm, I wonder if...'"
You can check out the full interview below.
Season 2 of
Project Blue Book
is set to premiere on January 21st.
Source: YouTube | Comments (14)
Similar stories based on this topic:
Tags: Project Blue Book, UFO