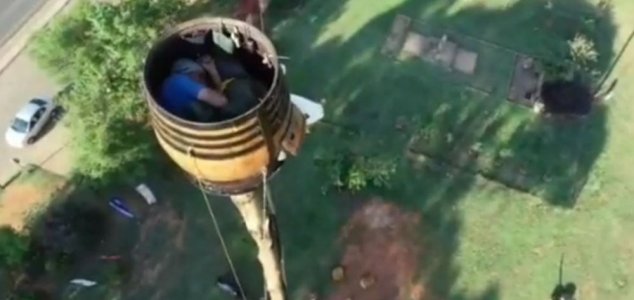 Imagine living like this for two months...

Image Credit: YouTube / Up The Pole In Dullstroom
52-year-old Vernon Kruger is well on his way to beating his own existing world record for 'pole sitting'.
High above the South African town of Dullstroom, Kruger has spent the last two months living in a small wooden barrel which is itself situated at the top of a 25-meter pole.
Each night he has to curl up in a fetal position in order to get to sleep in such a tight space and each morning he has to stand up and stretch to avoid cramping up.
The barrel is equipped with a special drainage system "for all the waste" and he is supplied with a selection of food and drink via a small basket that is hoisted up to him on a daily basis.
A bowl of water is also sent up for him to wash himself twice a week.
According to Kruger, the idea for this bizarre stunt first came to him while he was on holiday.
"Somebody said... why don't you break the record for sitting in a tree ?" he said. "First it was a joke and then I got a dare from my friends to actually do it."
After discovering that someone had already set a record for 28 days spent up a tree, he decided instead to attempt the record for 'pole sitting' by spending over 64 days up a pole.
Now, 20 years later, he is back at it yet again in a new bid to beat his own previous best.
So far he has been in his barrel for almost 67 days and is not planning to stop anytime soon.
"It does get a bit frustrating up here especially because I can't do many things for myself," he said. "I need to rely on other people for absolutely everything."
Source: The Guardian | Comments (13)
Tags: Pole Sitting, Dullstroom, Vernon Kruger